Taking (Another) Look at Elementary OS
Since I first encountered it in 2013, I've had a soft spot for Elementary OS. I like Elementary because it's simple.
It's not a Linux distribution for the techie. Elementary is for the ordinary person, the person who just wants to get some work done. It's not for someone who likes to finely tweak their desktop or who edits configuration files within a centimetre or two of their lives.
No. Elementary is simple. It's concise. It's easy to learn and use. As someone I know pointed out, Elementary OS carries forward the promise Ubuntu made, then abandoned, about being the Linux distribution for everyone.
It's been a while since I last used Elementary, so I figured it was time give it another look. Ready? Here we go.
Getting Elementary
Before you get going, make sure you have a USB flash drive handy. You'll use that to test drive and maybe even install Elementary OS. You'll also need a piece of software to write Elementary OS onto that flash drive. One that's easy to use is balenaEtcher.
Why do that? It's an easy way to run Elementary without installing it. And if you want to install it, you can right from the flash drive.
When you're ready, head on over to the Elementary OS website. You can download something called an ISO image from the main page. That's what you'll put on the USB flash drive.
You have a choice of making a donation to the project before downloading, or downloading for free. While you're not obliged to pay what the developers are asking, or anything at all, I encourage you to support Elementary OS if you continue to use it.
Now that you've got the ISO image, write it to the USB drive. Read this article to learn how to do that with balenaEtcher.
Start It Up
Once you're done, plug the flash drive into and restart your computer. Your computer should run Elementary OS from the flash drive. If it doesn't, you'll need to go into your computer's setting and change the boot order of your drives.
Elementary's desktop loads.
As I said, that desktop is clean, simple, and minimal.
Getting Started
Elementary OS comes loaded with a basic set of applications, including a simple web browser; an email app; a file manager; a calendar; a calculator; music and video players; an image viewing app; and a terminal app.
You can also install more software using Elementary's AppCenter. That's a central location from which you can install both software that's written specifically for Elementary OS, and also quite a few Linux apps with which you may be familiar.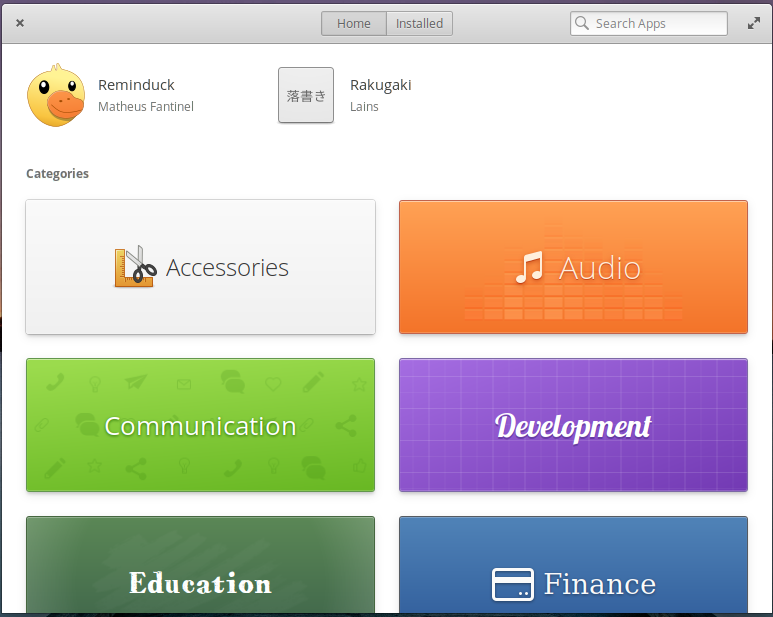 Much of the software that's written specifically for Elementary is pay-what-you-can. You're not obliged to pay the amount shown in the AppCenter, or anything for that matter. If you do find an app useful, you should consider passing some money on to the developer to help fund its continued development.
Taking a Peek at the Interface and the Applications
As I've stated a few times already, Elementary's interface is very clean and very compact. There is a minimum of clutter, and very little on the desktop to get in your way.
The Applications menu is unlike the ones found in most other Linux distributions. When you click Applications, a pop out that resembles a word balloon appears. That pop out contains links to the installed applications.
That view takes a bit of getting used to. Once you do, you'll have no problems with it.
You can also launch the applications that you frequently use from Elementary's dock, which is positioned at the bottom of the screen.
It's reminiscent of the one on the MacOS desktop. Whenever you fire up an application, it appears on the dock. You can right click on an icon and select Keep in dock to have it there rather than having to poke through the Applications menu.
Applications that are written for Elementary OS don't have a menu bar. Instead, the title bar and the icon bar for each application is combined into a single entity called a header bar.
It's all very seamless and clean. Many of the stock applications also have a Settings button (which looks like a gear) that, when you click it, displays a list of commands and options.
Note that this setup isn't true for all applications. If, for example, you install The GIMP then you'll get a menu bar.
Getting to Work
Yes, you can do real work in Elementary OS. No matter what some people say. The stock apps won't be enough, so you'll have to turn to the AppCenter.
Working in Elementary OS is simple and smooth. It's just like working on any other Linux distribution I've used — that wasn't a surprise. As I mentioned several paragraphs ago, I was pleasantly surprised at how zippy the software (and Elementary OS itself) was on a five-year-old laptop.
Final Thoughts
As I pointed out at the start of this article, Elementary OS is aimed at the ordinary user and not the techie. It's easy to get up and running with Elementary, and you can quickly install the software that you need.
In the few years since I last tried Elementary OS, it's improved. Quite a bit. So much so that I'm seriously considering adopting it as my daily driver.